hi all!!!
Are you tired
of worrying about your dog
breaking his collar
as you walk him down the street? How about your leashes snapping to pieces!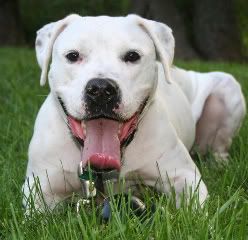 Picture of an American Bulldog
I have
American Artisan Handmade Durable Double Ply Double Stitched and Bonded Dog Collars & Leashes
That Can Put an End to All Your Worries. My family have been breeding
American Bulldogs
since the 80's &
Oldies
since the 90's.
Picture of an Olde English Bulldogge
By purchasing a collar from me, you definitely get the quality you deserve for your hard earned money. Plus you
give your dog the presence it deserves
with a glove fitting collar. This leather making technique has been passed down
from generation to generation.
Only
bridle leather
is used and
high end quality
stainless steel hardware
and
copper riveting
in key pressure areas. This type of leather has been featured on the best working dogs out there.
Gladiator Dogs

by Carl Semenic
features these old school collars.
Come by my store and check them out!
www.realdawgleather.com.
Black Leather 3 inch wide Dog Collars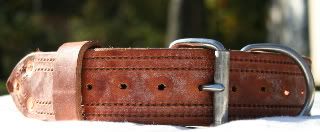 Brown Leather 2 inch wide Dog Collars

Black Leather 1 inch wide Dog Collars





Prices start at $55.00 for 2 inch wide collars & 95 dollars for 3 inch wide collars! Traditional Black & Brown Colors & custom fittings are available! Fast shipping guaranteed! International customers welcome!
I stand behind my product! I use them on my dogs, and I invite you to share in my experience!
You will definitely not be disappointed! Thank you for stopping by!